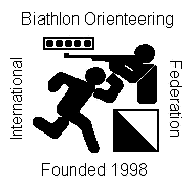 World Biathlon Orienteering Championships (WBOC) are arranged each year.
Rules for the championships are outlined in IBOF Rules, para. 2.
Hosting of the championships changes between member countries following a principle of voluntariness.
Each championship ought to be arranged at a low cost budget as well for the organizer as for the participants.
Hosting nations since the first European Biathlon Orienteering Championchips (EBOC) in 1998 and the first World Biathlon Orienteering Championship (WBOC) in 2005:
EBOC 1998 - Norway.
EBOC 1999 - Denmark.
EBOC 2000 - Estonia.
EBOC 2001 - Finland.
EBOC 2002 - Sweden.
EBOC 2003 - Denmark.
EBOC 2004 - Lithuania.
WBOC 2005 - Norway.
WBOC 2006 - Estonia.
WBOC 2007 - Finland.
WBOC 2008 - Sweden.
WBOC 2009 - Belgium.
WBOC 2010 - Denmark.
WBOC 2011 - Czech Republic.
WBOC 2012 - Estonia.
WBOC 2013 - Sweden.
WBOC 2014 - Germany.
WBOC 2015 - Finland.
WBOC 2016 - Czech Republic.
WBOC 2017 - Sweden.
WBOC 2018 - Denmark
WBOC 2019 - Finland (See bulletin)
---